"All is possible"
I recently had the opportunity to be the yoga instructor for a YOGA + Cultural Retreat in Guatemala!
The opportunity to create the retreat for Spring 2014 came in the Fall of 2013, as I was still navigating thru my breast cancer journey. I was feeling vulnerable and unsure I would have anything to give as well as not knowing how my life would look in early Spring 2014.
My heart was saying, "Yes, just do it!" My logical brain was saying…but you don't know what April 2014 will look like, how will you feel, will you be strong enough and have enough energy to offer others? I was banking on the fact that the planning would help distract me from the cancer stuff and give me a reason to create something positive. So I created the experience with Liza Fourre owner/director of ART Workshops of Guatemala. Oh how I struggled with the notion of letting go of the outcome and remember all is possible! It indeed happened and was a great experience of connection, learning, and growing for all involved. A great example in my life of "all is possible!"
Click here to view the video http://animoto.com/play/u2frkcsuNKowCU9ss9v1VQ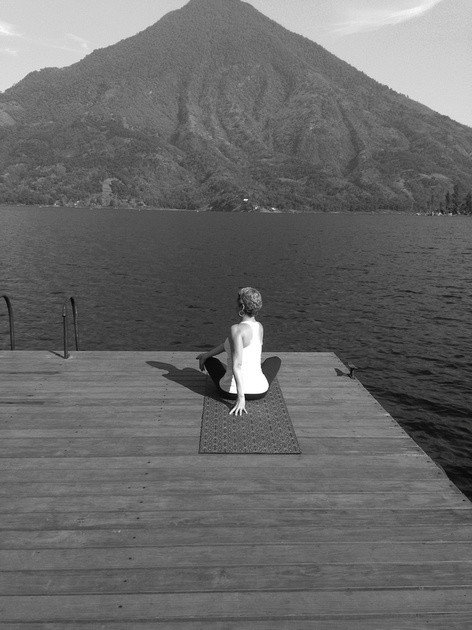 "All is possible"
4/24/14
I just left a yoga class with one of my favorite teachers here in Bethany beach, Delaware. Lisa always creates an encouraging, nurturing, and energetic class!
While in the class today I had another "ahh ha" moment or I sometimes I like to call it an affirmation that "all is possible." It is a moment or moments when I feel an internal smile coming on. Noticing on a physical level things like...my right arm has moved to a wider range of motion, as I twist open to warrior II or that my legs don't shake in a strength posture or that my mind has let go of expectation.
By letting yoga meet me where my mind and body were today, it turns out it was an exciting day! I was able to glide right down into cobra pose! I have not been able to lower from plank (full plank or on my knees) to my belly for 10 months! I have honored and modified my yoga practice many times over these past 10 months and today when my brain let go of fear, my body made it possible….this was a big one for me. I realized in that moment, once again, "all things are possible!" Not just in yoga but in life!
I feel strong, without thinking or asking myself the question "am I stronger", it just happens. My whole body smiles and I acknowledge, "I feel strong!" This is an ah ha moment for sure. Noticing the change even as subtle as it can be…noticing + acknowledging is so important to overcome any obstacle and recognizing that, YES indeed all is possible.
I didn't do 20 planks in a row and suddenly feel "wow I could do 20 in a row. " There is no measuring stick or finish line. It is being in the moment and noticing that something is different, noticing the change. Maybe it is the same as getting over that finish line and acknowledging you did it? I don't know, all I know is those moments for me have come thru my yoga practice and give me so much hope that the future is open to many possibilities.
Here is to opportunity, learning, growing and creating possibility! ~ Delia
"It's the possibility that keeps me going, not the guarantee." Nicholas Sparks, The Notebook